| | |
| --- | --- |
| | |
From Okinawa to Hawaii and Back Again
What It Means to Be American: Hosted by The Smithsonian and ZĂłcalo Public Square
2015-08-31
Laua Kina, Vincent de Paul Professor of Art, Media, & Design
DePaul University, Chicago, Illinois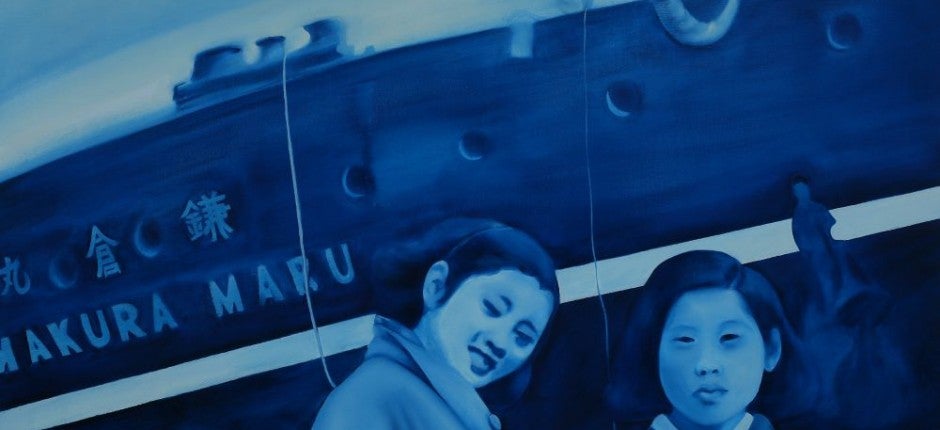 Kibei Nisei, 30 x 45 inches Oil on canvas (2012)
A Painter Follows the Currents of Her Family History
I am a hapa, yonsei Uchinanchu (a mixed-race, 4th-generation Okinawan-American) who was born in Riverside, California, in 1973 and raised in the shadow of the Cascade Mountains in Washington state. My mom's roots stem from Spanish-Basque migrants in California and white southerners in Tennessee. My father is Okinawan from Hawaii. Because I don't look quite white, people frequently ask, "What are you?" From an early age, even though Hawaii and Japan were enigmas to me, I have had to explain my relationship to these "exotic" places.
Growing up, we lived by my mother's family and visited her parents weekly at their road-side motel near a Puget Sound ferry landing, but I knew little about my father's childhood, an ocean away, on a Piihonua sugarcane plantation near Hilo. I got a glimpse on occasional vacations to visit family on the Big Island of Hawaii or my aunties in Los Angeles. The only other traces were evident in the Spam in our sushi, the fact that we called instant ramen noodles saimin, and in the echoes of Pidgin English in Dad's accent that refused to be erased.
I am a painter, and at the heart of my paintings is the journey I've been on to understand how these different currents have formed my American experience. I've followed their flow back in time to the canefields of Territorial Hawaii and early 20th-century Okinawa, Japan…
Read the entire article here.
Tags:
Hawaii
,
Hawaiʻi
,
Japan
,
Laura Kina
,
Okinawa
,
What It Means to Be American