Arcade Fire Exploited Haiti, and Almost No One Noticed
The Atlantic
2013-11-12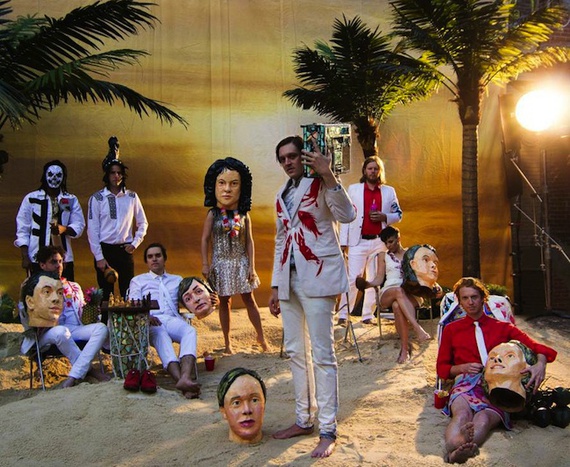 Arcade Fire / JF Lalonde
The band has a deep, sincere relationship with the Caribbean nation. But even so, Reflektor's marketing campaign has perpetuated stereotypes.
Months before Arcade Fire's new album came out, I learned of its existence when social media pointed me to a website with some chalked, black and white patterns spelling out "Reflektor." The designs seemed strange and foreign, and I was intrigued about what the music might sound like—not because I knew what the accompanying imagery meant, but precisely because I didn't.
This, of course, was the intended effect. It turns out those designs were inspired by Haitian veve graffiti, used in syncretistic Vodoun practices to summon the Loa (angels or spirits, messengers to the deity). But presented out of context, to the typically unknowing fan like me, they connoted something else: mystery, exoticness, esotericism.
Reflektor itself—now released and at the top of the charts—and the rest of its marketing campaign went all-in on the Haitian tropes. During some promotional concerts the band donned Kanaval masks, coopting a symbol that holds multifaceted, complex meaning for Haitians during Carnival but that was reduced to flat shorthand for "party!" during a raucous SNL appearance. The music evokes similar stereotypes. In the song "Flashbulb Eyes," glimmering marimbas will, for many listeners, conjure a specific idealization of the Caribbean (where Haiti is located), while singer Win Butler wails about cameras stealing souls. The band's music used to feel interesting by virtue of its heart-on-sleeve confrontation with mortality; now, it borrows its edginess by leaning on preconceptions about a foreign region….
…This demonstrates that peoples' stereotypes and assumptions operate independent of the appropriators' own knowledge, however deep, of the culture they're taking from. In this case, that knowledge is substantial. The band has a longstanding relationship with Haiti, starting with member Régine Chassagne's ancestry (her parents fled the nation during the Duvalier horrors). They have been dedicated supporters of Partners in Health, which works to eradicate disease in Haiti. As Darville points out, though, audiences generally lack this context, and the onus is on the artist to recognize that fact…
Read the entire article here.
Tags:
Arcade Fire
,
Haiti
,
Hayden Higgins
,
music
,
Reflektor
,
Régine Chassagne
,
The Atlantic
,
Win Butler