Your Morning Cry: Leonard Nimoy's Touching 1968 Advice Column Answers Teen Biracial Girl
Jezebel
2013-03-16
Anna Breslaw, Editor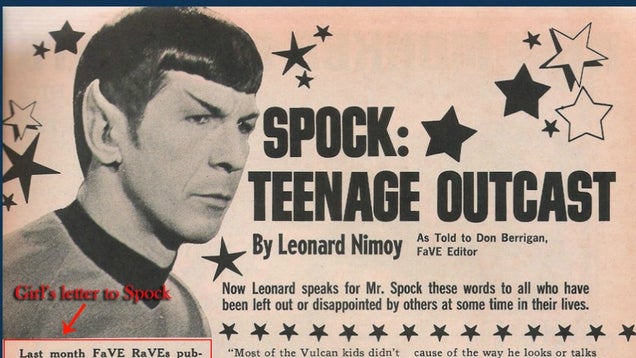 While the William Shatner era of Star Trek isn't exactly the first thing that springs to mind as a predecessor of the "It Gets Better" anti-bullying movement, Buzzfeed's got an excerpt from the advice pages of a 1968 teen magazine called FaVE displays Leonard Nimoy's sensitivity to the plight of one particular young woman. What would Spock do? she asks. And damn if he doesn't answer her perfectly.
Last month FaVE RaVEs published this letter:

Dear Mr. Spock,

I am not very good at writing letters so I will make this short. I know that you are half Vulcan and half human and you have suffered because of this. My mother is Negro and my father is white and I am told this makes me a half-breed. In some ways I am persecuted even more than the Negro. The Negroes don't like me because I don't look like them. The white kids don't like me because I don't exactly look like one of them either. I guess I'll ever have any friends.

F.C.
Los Angeles, Calif…

Leonard became so interested in this girl's situation, FaVE offered him this chance to tell everyone what Mr. Spock did when he faced this problem.

"As you may know, only Spock's mother was human. His father was a Vulcan. Spock grew up among Vulcan children and, because he was different, he had to face the problem of not being accepted. This is because people, especially young people it seems, and Vulcans, too, tend to form into groups, kind of like wolf packs. They often demand that you be just like them or you will not be accepted. And the Vulcans were no different than humans are when it comes to prejudice."…
Read the entire article here.
Tags:
Anna Breslaw
,
FaVE
,
Jezebel
,
Leonard Nimoy
,
Mr. Spock
,
Spock
,
Star Trek