In "The Alexander Litany," intersectionality collides with campus
North by Northwestern
2016-02-03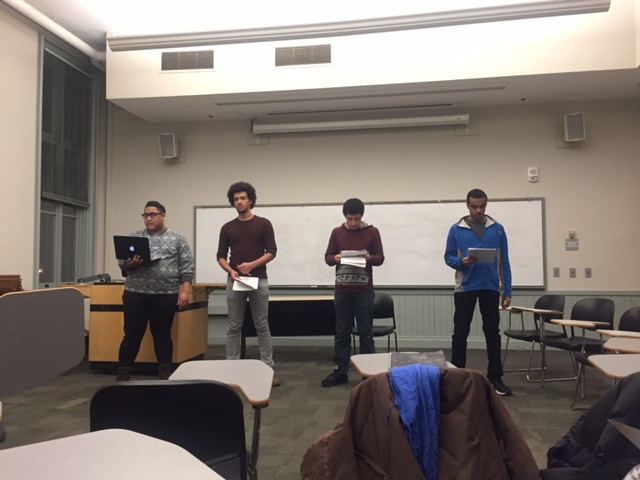 Roger Mason as Clarence, Eliott Sagay as Joseph, Grant Lewis as Jackson, Jeff Paschal as Max. Photo by Alexandria Woodson
"Look into my eyes and you'll see that fear ain't only skin deep, at least not for me," implored Max Alexander, protagonist of The Alexander Litany, at an open mic reading on an unnamed college campus in Southern California.
Kori Alston, 20-year-old playwright and Communication sophomore, first spoke these words at a 2014 slam poetry competition. To follow, he wrote them into his new play, creating Max Alexander, a young man who contemplates his racial and sexual identity, as a means to express his frustration. The final product was performed as a staged reading in Shanley Pavilion January 15-16, 2016.
"In every good slam poem there is universal truth, there is personal truth, and then there is a kind of truth for the audience," Alston said…
…Like Alston, Alexander grew up with a white mother and an absentee Black father. Both struggled with their relationship to a Black world. Both are college students far from home, angry with the racism they face every day. But the boys are different in how they confront their dissatisfaction.
"My relationship with Blackness was with my father. He was such a negative part of my life, and it was easy to associate Blackness with the bad parts of my father. I wanted to be white," Alston said.
As someone with a white mother and Black father, Alston used to refuse to racially identify, partially because he began to dislike the Black parts of himself, he said. As he got older, Alston said he began to confront racism by a "Fuck you; I'm Black" attitude and growing his hair out to emphasize his Black identity.
He vacillates between wanting to disrupt spaces and make noise every time he hears a Black person was killed, to trying to find a safe space to challenge white audience members' way of thinking…
Read the entire article here.
Tags:
Kori Alston
,
Lauren Sonnenberg
,
North by Northwestern