'Typical American Families' photo exhibit to be unveiled at Emory
Emory News Center
Emory University, Atlanta, Georgia
2015-05-04
Kimber Williams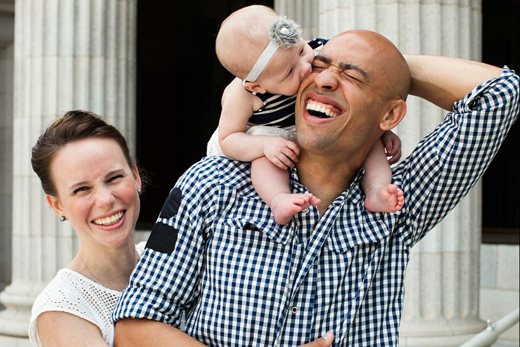 "Typical American Families" highlights the many configurations that family life can take in America. Photos in the exhibit will be unveiled at a public reception at the Center for Ethics on May 7. Photo by Ross Oscar Knight.
"Typical American Families," a new photographic exhibit that explores a wider view of American families, will be unveiled Thursday, May 7, from 6:30-8:30 p.m. at the Emory Center for Ethics, 1531 Dickey Drive.
Conceived by Carlton Mackey, director of Emory's Ethics and the Arts Program, the exhibit offers a photographic glimpse into the lives of 15 Atlanta-area families, celebrating "the vast landscape of manifestations of family" across spectrums of culture, faith and ability, Mackey says.
The event includes a public reception and formal unveiling of the exhibit. Guests will also have a chance to meet families that participated in the community project, which showcases the diversity of the American family through the lens of international photographer/photoculturalist Ross Oscar Knight, Mackey's creative partner.
The families — who haven't yet seen their photographs — will share stories and insights into how they bridge faith, culture and difference in Atlanta, Mackey says…
…"Typical American Families" was inspired by Mackey's ongoing work on "Beautiful in Every Shade," an empowerment campaign that celebrates the breadth and depth of beauty in every human being.
That campaign grew out of  "50 Shades of Black," a multi-media art project launched by Mackey in 2013 — and funded in part by a grant from Emory's Center for Creativity & Arts — that explores the intersection of skin tone and sexuality in the shaping of identity through images and personal narrative…
Read the entire article here.
Tags:
Carlton Mackey
,
Emory News Center
,
Emory University
,
Kimber Williams
,
Ross Oscar Knight