Barack Obama's original sin: America's post-racial illusion
The Guardian
2017-01-13
Keeanga-Yamahtta Taylor, Assistant Professor of African American Studies
Princeton University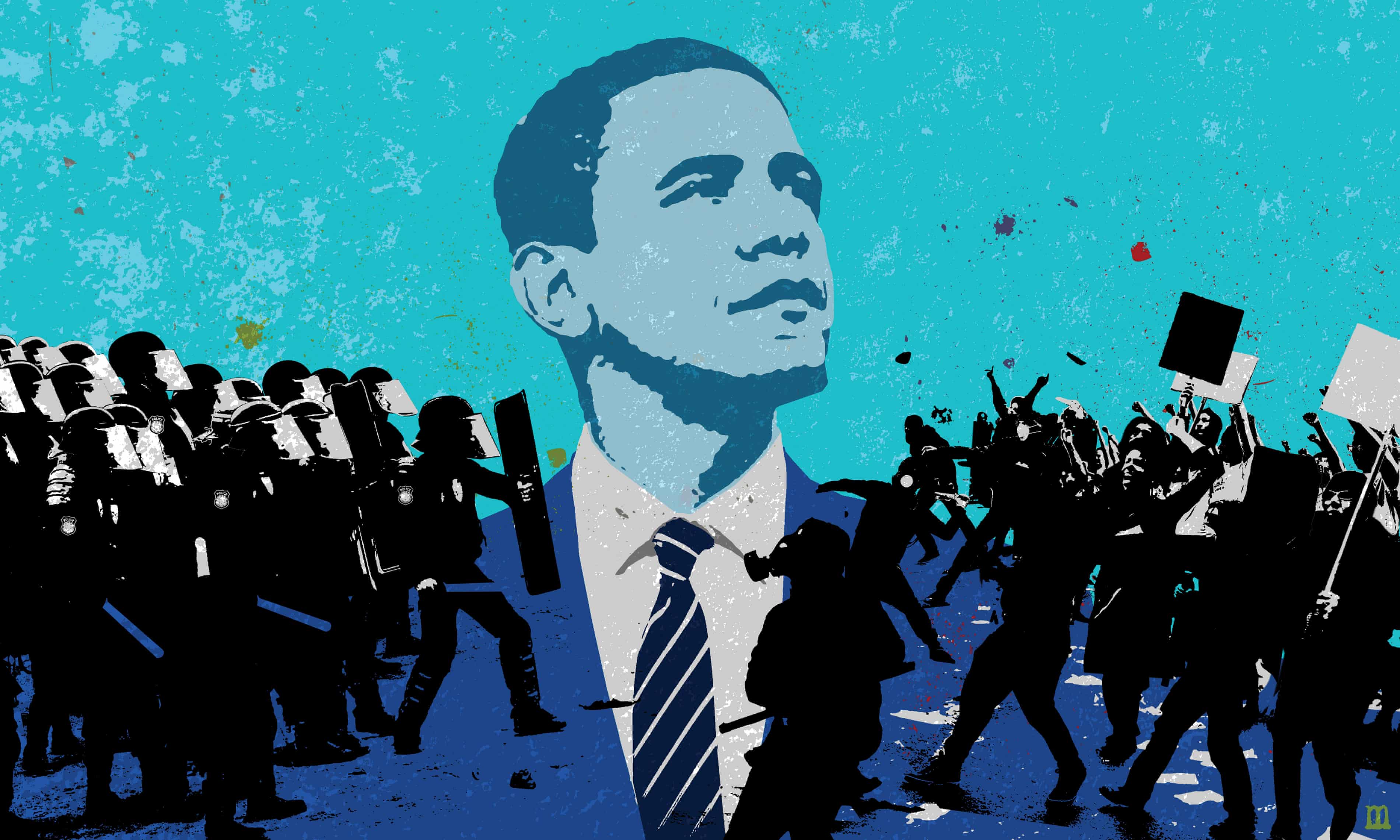 Illustration by Joe Magee
Barack Obama's refusal to use his position as president to intervene on behalf of African Americans is a stain on his record many activists will never forget
In the first hours of the new year in 2009, just weeks before Barack Obama was to be inaugurated as the next president, shots rang out in Oakland, California. A transit officer named Johannes Mehserle shot an unarmed 22-year-old black man who lay face-down in handcuffs on a public transportation platform. His name was Oscar Grant.
Dozens of witnesses, many of whom were returning to Oakland after New Year's Eve celebrations, watched in horror. Some captured his killing on smartphones. Shortly afterward, black Oakland exploded in palpable anger, with hundreds, then thousands of people taking to the streets, demanding justice.
Perhaps this outcry would have happened under any circumstance, but the brutality of Grant's death in the few weeks before the country's first black president was to take office felt like a shock of cold water. Police brutality had long been a fact of life in California, but the country was supposed to have entered into a post-racial parallel universe. The optimism that coursed through black America in 2008 seemed a million miles away.
A local movement led by Grant's family unfolded across the Bay Area to demand that prosecutors charge and try Mehserle. Protests, marches, campus activism, public forums and organizing meetings sustained enough pressure to force local officials to charge Mehserle with murder. It was the first murder trial of a California police officer for a "line of duty" killing in 15 years. In the end, Mehserle, convicted of involuntary manslaughter, spent less than a year in prison, but the local movement foreshadowed events to come.
As for President Obama, he turned out to be very different from candidate Obama, who had stage-managed his campaign to resemble something closer to a social movement. He had conjured much hope, especially among African Americans – but with great expectations came even greater disappointments…
Read the entire article here.
Tags:
Keeanga-Yamahtta Taylor
,
The Guardian