The Pennsylvania Gazette
2016-06-20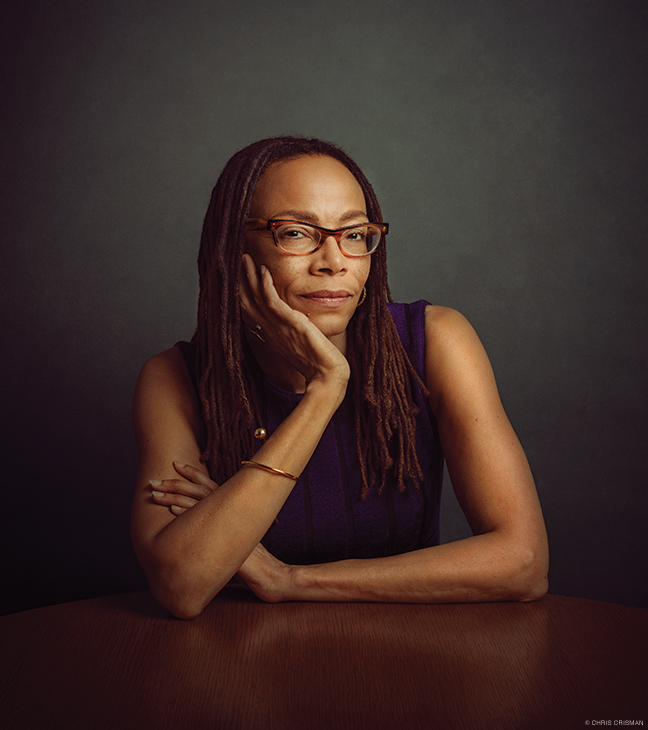 Photo by Chris Crisman C'03
PIK Professor Dorothy Roberts exposes how the myth of biologically distinct races—forged in the era of slavery—continues to poison the present, affecting attitudes and policies on everything from child welfare to medical treatment.
There's not much humor to be found around the subjects Dorothy Roberts deals with, but the Saturday Night Live parody, "The Day Beyoncé Turned Black," was both bitingly funny and practically tailor-made for analysis by the lawyer, scholar, and social-justice advocate who serves as the University's 14th Penn Integrates Knowledge Professor.
Roberts referenced the sketch at the beginning of a talk titled "What's So Dangerous About Black Women's Sexuality?" that she gave on February 17. That was shortly after Beyoncé's release of her music video, "Formation," and live performance of the song at the Super Bowl halftime show—"backed up by an entourage of black women sporting Black Panther Party Afros and berets," Roberts said, and lyrically "saluting the Black Lives Matter movement, protesting against police brutality, and celebrating black culture and black beauty, including her 'Negro nose with Jackson Five nostrils' and her daughter Blue Ivy's baby hair and Afro."
For the most part, "black people were really proud and happy that Beyoncé was as militant as she was," Roberts added. "White America, on the other hand, reacted—at least much of it reacted—quite differently."
Which the folks at SNL took and ran with.
Formatted like a movie trailer, "The Day Beyoncé Turned Black" skewered whites' assumptions around cultural ownership ("Maybe this song isn't for us." "But usually everything is!"), arrogance in assigning racial categories (a familiar co-worker isn't black black; but a youth outfitted in a gold Africa pendant and camouflage jacket obviously is), and fears of racial contamination (in a white mother's mounting horror as she imagines her tween daughter has "turned black," too, from listening to Beyoncé's music.)
But Roberts homed in on another revealing exchange: "To me the most telling, truthful moment in this skit is two white guys cowering under a desk, when they realize that not only Beyoncé but other female celebrities who become popular with white people—like Kerry Washington, the star of ABC's very popular Scandal—are also black. And one man says, 'How can they be black? They're women.' And the other shrieks, 'I think they might be both!'…
…"My parents had a strong sense that all human beings are equal and can live harmoniously and peacefully together," Roberts says. "They were not so much civil rights advocates as human rights advocates. My very early childhood was deliberately focused on human equality."
As a kindergartner, Roberts recalls, she embraced her parents' philosophy. "I remember being proud that I had parents of different races and that was an important part of my identity. But by the time I was in seventh grade, I identified as black and was much more interested in liberation for black people than in interracial relationships," she says. "Until extremely recently, I really diminished the fact that my parents were black and white. Most people think of me as black. I don't identify as biracial or mixed race."…
Tags:
Dorothy E. Roberts
,
Dorothy Roberts
,
Melissa Jacobs
,
The Pennsylvania Gazette