| | |
| --- | --- |
| | |
BU community urged to increase open, uncomfortable conversation
The Daily Free Press
The independent student newspaper at Boston University
ISSN 1094-7337
2015-11-03
Joe Becker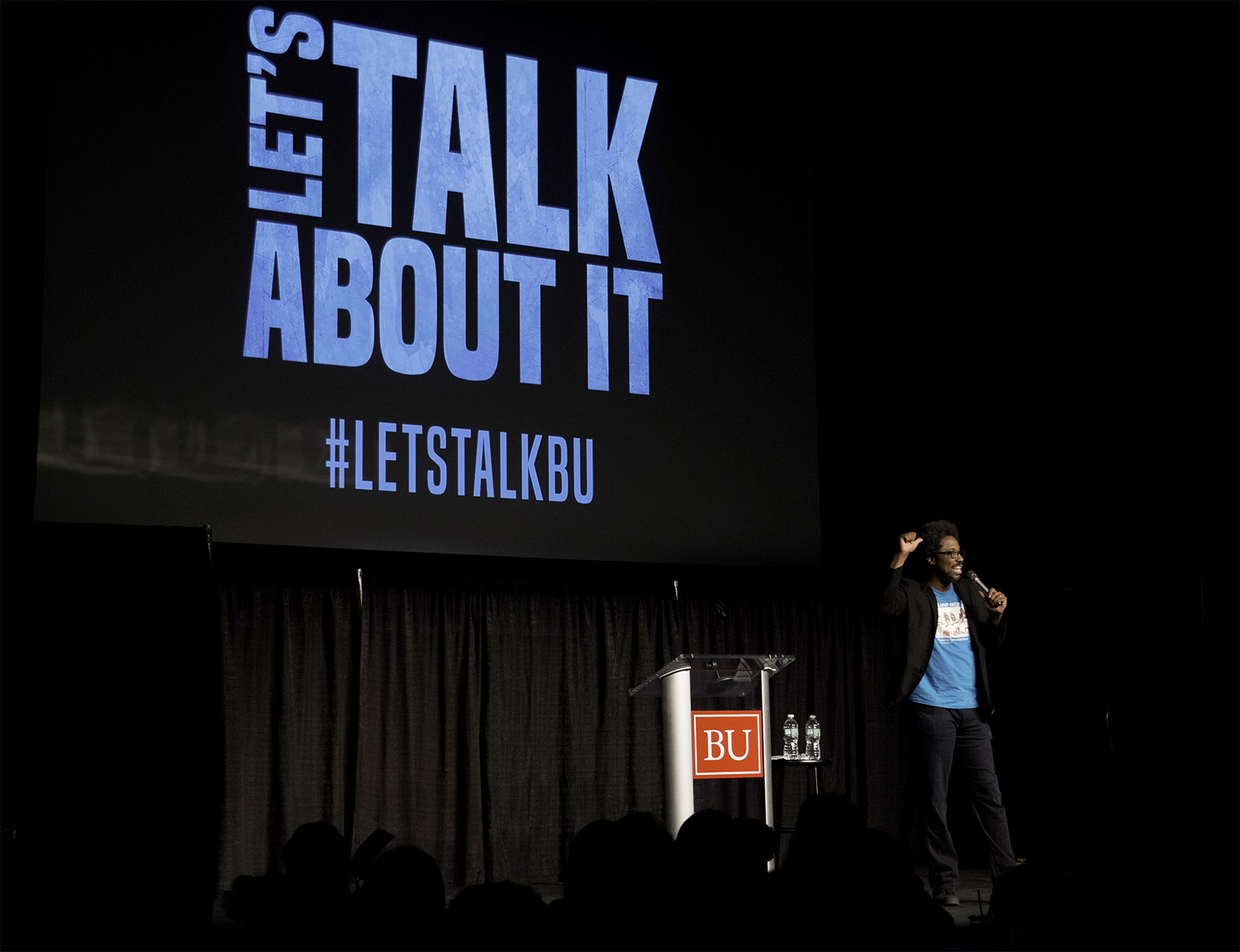 Keynote speaker and comedian W. Kamau Bell speaks about his mixed race children during "Let's Talk About It," a dialogue about race, identity and social action, on Monday night. PHOTO BY BRITTANY CHANG/DAILY FREE PRESS CONTRIBUTOR

Boston University College of Arts and Sciences Student Programs and Leadership hosted the "Let's Talk About It: Race, Power and Privilege" talk Monday evening, featuring a keynote and question-and-answer session with socio-political comedian W. Kamau Bell. The dialogue touched on the social fabric on campus and around the country.
More than 100 attendees, comprised of mostly students and faculty, gathered in the Metcalf Hall of the George Sherman Union. Sitting at round tables, attendees, assisted by a minimum of one student facilitator, engaged in intimate conversations with each other throughout the event.
Bell elicited humor from often-uncomfortable social issues in his talk. He spoke of his interracial marriage with a white woman and the difficulties of talking about race and racism with his two mixed-race daughters.
"Remember the first time you saw an iPad? That's how people react to mixed-race children," he said during the event. "It's not that big of a deal. You can tell kids anything. The construct of race is real, and racism is definitely real."…
Read the entire article here.
Tags:
Boston
,
Boston University
,
Daily Free Press
,
Joe Becker
,
Massachusetts
,
The Daily Free Press
,
W. Kamau Bell