| | |
| --- | --- |
| | |
'Blaxicans' photos explore Angelenos straddling two worlds
Cable News Network (CNN)
2016-03-01
Emanuella Grinberg, Writer/Producer CNN Digital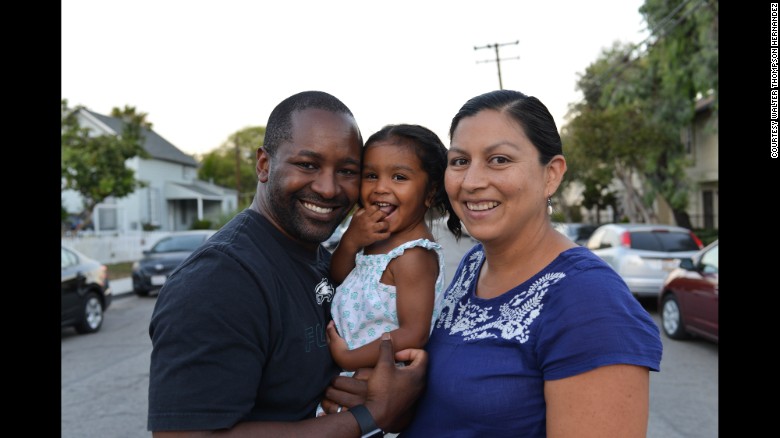 Blaxicans of L.A. is an Instagram account that grew into a show at Los Angeles' Avenue 50 Studio during Black History Month. The exhibit includes portraits with captions detailing personal histories and experiences with colorism and self-identity. Ken and Alejandra, pictured here, say they tell their daughter she is black and Mexican. "We will explicitly teach her to be proud of the fact that she is Mexican and to be proud of the fact that she is black," Alejandra said.
Los Angeles (CNN)—As the biggest names in entertainment converged Sunday on the Oscars red carpet at the Dolby Theatre in Hollywood, about 10 miles to the east, artists, academics and community leaders gathered in Los Angeles' historically Chicano community for a different sort of cultural event.
"Duality: Blaxicans of L.A." is a photo exhibit that explores multiracial identity among the city's two largest minority groups. The show is a Humans of New York-esque portrait series of Angelenos of African and Latino backgrounds accompanied by captions detailing family history, experiences with colorism and self-identity.
The exhibit grew from an Instagram account of the same name started by Walter Thompson-Hernandez, who has a Mexican mother and an African-American father. He launched Blaxicans of L.A. while researching the topic as a graduate student at Stanford University's Center for Latin American Studies in response to what he saw as a gap in multiracial studies.
"Most multiracial scholarship has been on the black and white binary. I felt it didn't cover the range of ways that multiracial people identify," he said…
Read the entire article here.
Tags:
Cable News Network
,
CNN
,
Emanuella Grinberg
,
photography
,
Walter Thompson-Hernandez