| | |
| --- | --- |
| | |
The Law According to Rachael Rollins
Boston Magazine
2019-08-06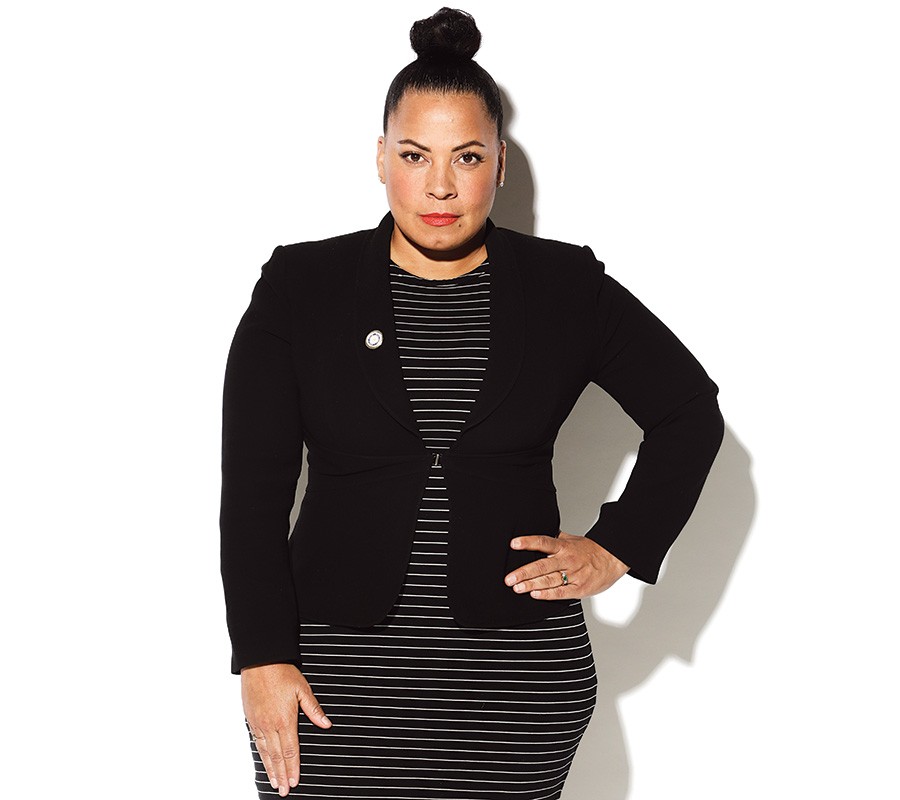 Portrait by Diana Levine
The charismatic new district attorney is Boston's greatest hope to bring the criminal justice system into the wide, woke 21st century. What's at stake? Only the future of law and order in our city.
The first thing I notice when I walk into Rachael Rollins's downtown corner office is the impressive wraparound windowsill jam-packed with plaques, diplomas, statuettes, and a little engraved glass prism that catches the afternoon light shining through the window. Everyone from Mayor Marty Walsh and Massachusetts Lawyers Weekly to the Cambridge branch of the NAACP and a Dorchester football team has contributed an object to her collection.
"Wow, you have a lot of awards," I say.
"See," Rollins says, looking up from her desk. "There are people who like me."
The second thing I notice is that the city's top prosecutor is already on the defensive.
At first blush, it seems a little odd that the woman who recently won a landslide election with 185,133 votes (a number she mentions with striking regularity) would feel the need to remind me that there are people who actually like her. Then again, ever since winning the job of Suffolk County district attorney on a promise to reform criminal justice, reduce racial biases in the system, and essentially reinvent the role of DA, Rollins has become a lightening rod for Boston's law enforcement and political establishments. She has received more attention and public ridicule than any other DA in the state—probably more than all of the rest combined—for policies her critics warn are a threat to public safety. She has taken heat from the cops, feuded publicly with Governor Charlie Baker, and been hammered by a fellow DA. She's also been thumped by her fellow progressives for not yet making good on some campaign promises and has been featured in more unflattering photos in the Herald than she has spent months on the job. And she's losing experienced prosecutors by the droves…
…One of the foremost reasons that early supporters thought she should run is the rare mix of personal experiences she could bring to the campaign trail. The eldest of five children of a mixed-race couple, Rollins identifies as black but, thanks to her father, says she is "fluent in white Irish male." She grew up with tight finances in a working-class family, but a scholarship allowed her to attend school at the tony Buckingham Browne & Nichols. "I am everything that people don't think I am," she tells me, "and that's my superpower."
Race and class aren't the only divides Rollins has straddled in her personal life. On one hand, she is an accomplished lawyer who worked at the U.S. attorney's office and served as general counsel at Massport and the MBTA. On the other hand, one of her siblings has served time in federal prison on drug and weapons charges. And Rollins is candid when talking about how another has had his own run-ins with the law, and a third has battled an opioid addiction. As the result of some of these entanglements with the criminal justice system, Rollins is the guardian and has custody of two of her siblings' children, in addition to having her own teenage girl. It was these contradictions that made her the most distinctive candidate vying for the job of the county's top law enforcement officer. "There is no one out there with such a wide range of experiences," Boston City Council President Andrea Campbell told me, explaining why she was one of those dozens of people who flooded Rollins's phone with messages urging her to run. "She gets the story from both sides."…
Read the entire article here.
Tags:
Boston
,
Boston Magazine
,
Catherine Elton
,
Massachusetts
,
Rachael Rollins
,
Suffolk County