Emory professor translates 1922 novel about racial identity
Emory News Center
Emory University
Atlanta, Georgia
2017-10-12
April Hunt, Communications Manager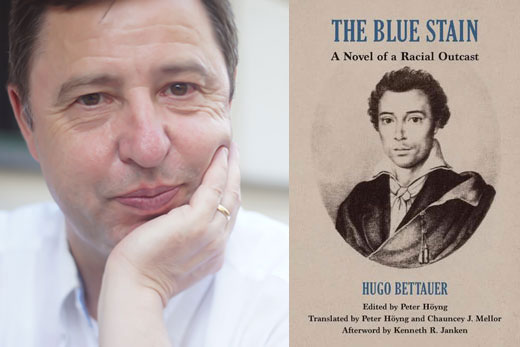 In "The Blue Stain," a man viewed as white in Europe struggles with identity after he comes to the U.S., where he is seen as black. Thanks to Peter Höyng, associate professor of German studies, the novel is now available in English.
Carletto is a man raised in privilege and wealth in Europe, where he is seen as white, if exotic. He struggles with the very question of identity after he loses his fortune and comes to the United States, where he is viewed as black.
What may sound like a contemporary debate about the complex questions of race and identity is actually the plot from the 1922 novel "The Blue Stain."
Austrian author Hugo Bettauer's novel might have been lost to the ages had Peter Höyng, an associate professor of German studies in Emory College, not stumbled across it in the Austrian National Library while doing scholarly research on the author in 2002.
He was struck that Carletto's story starts, and ends, in Georgia. Along the way, it touches on the entrenched role that race has in American society, as seen by an outsider like Bettauer, a Jewish man from Austria.
Höyng became devoted to translating the story. His labor of love recently became the English-language version of "Blue Stain" — published with the subtitle, "A Novel of a Racial Outcast" —with him as editor and co-translator with Chauncey J. Mellor, a former colleague at the University of Tennessee, Knoxville.
"There is nothing else in German literature at the time that addresses racial issues in the United States, how racism worked not just in the South, but in New York and the North," Höyng says. "The story itself, though, is a small but very effective way to discuss the deeply political ideas of standing up for equality and against injustice."…
Read the entire article here.
Tags:
April Hunt
,
Austria
,
Chauncey J. Mellor
,
Chauncey Mellor
,
Emory College
,
Emory News Center
,
Emory University
,
Georgia
,
Hugo Bettauer
,
Maximilian Hugo Bettauer
,
New York
,
New York City
,
Peter Höyng