[Interview] If only parents gave DNA samples when they put children up for adoption
The Hankyoreh
2017-04-04
Kang Sung-man, Senior Staff writer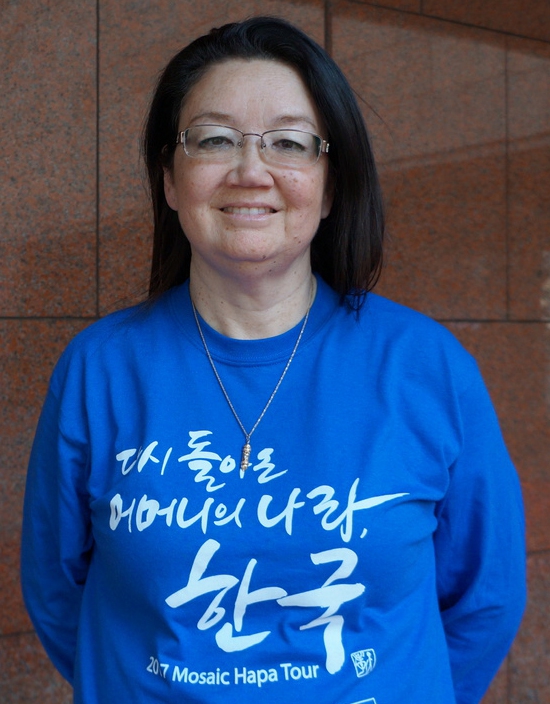 Bella Siegel-Dalton is a mixed-race adoptee who returned to South Korea after 51 years to look for her biological mother's family. The big Korean letters on her shirt say, "Back in South Korea, my mother's country." (by Kang Sung-man, senior staff writer)
More Korean adoptees are organizing to search for their birth parents through DNA testing
Bella Siegel-Dalton is back in South Korea for the first time since being adopted by a family in the Napa Valley of northern California in 1966. When Bella Siegel-Dalton, 56, met a Hankyoreh reporter in a coffee shop on the first floor of the Lotte Hotel in Seoul on Apr. 1, her face was pallid. Because of kidney trouble, she needs to receive a transplant within two years. She's also receiving chemotherapy after being diagnosed with leukemia.
Seven years ago, Siegel-Dalton identified her biological father in the US through DNA testing, but he had already passed away. During this trip to South Korea she says she wants to find her biological mother. "My 17-day trip to South Korea is challenging, so I'm gritting my teeth and hanging on. But it's not painful, because this visit is so important to me," she said.
Siegel-Dalton is a mixed-race adoptee who was born in Dongducheon, Gyeonggi Province, in 1961, to a South Korean woman and an American soldier. Her birth name was Lee Ji-sun. "My adoptive parents were really good people. My mother was an English teacher with a Master's degree, while my father was a researcher for Shell Oil. They would sometimes let me try kimchi and listen to 'Arirang' so that I wouldn't forget my memories of Korea," she said…
Read the entire article here.
Tags:
adoption
,
Bella Siegel-Dalton
,
Hankyoreh
,
Kang Sung-man
,
Korea
,
South Korea
,
The Hankyoreh