Key facts about race and marriage, 50 years after Loving v. Virginia
Pew Research Center
2017-06-12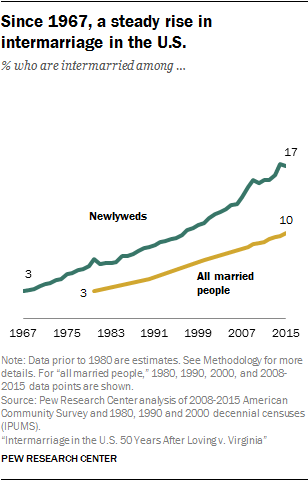 In 1967, the U.S. Supreme Court ruled in the Loving v. Virginia case that marriage across racial lines was legal throughout the country. Intermarriage has increased steadily since then: One-in-six U.S. newlyweds (17%) were married to a person of a different race or ethnicity in 2015, a more than fivefold increase from 3% in 1967. Among all married people in 2015 (not just those who recently wed), 10% are now intermarried – 11 million in total.
Here are more key findings from Pew Research Center about interracial and interethnic marriage and families on the 50th anniversary of the landmark Supreme Court decision…
Read the entire article here.
Tags:
Kristen Bialik
,
Loving v. Virginia
,
Pew Research Center