OUPblog: Oxford University Press's Academic Insights for the Thinking World
2014-10-20
Carina Ray, Associate Professor of African and Afro- American Studies
Brandeis University, Waltham, Massachusetts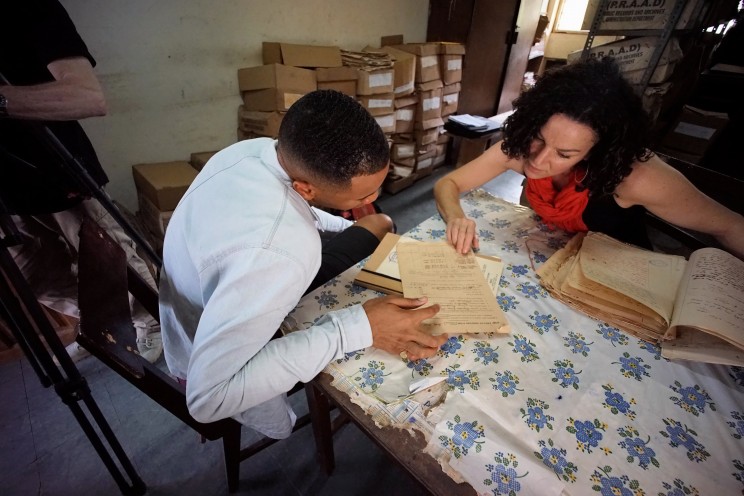 DJ/Presenter Reggie Yates and Dr. Carina Ray review historical documents
As an Africanist historian committed to reaching broader publics, I was thrilled when the research team for the BBC's genealogy program Who Do You Think You Are? contacted me late last February about an episode they were working on that involved the subject of some of my research, mixed race relationships in colonial Ghana. I was even more pleased when I realized that their questions about shifting practices and perceptions of intimate relationships between African women and European men in the Gold Coast, as Ghana was then known, were ones I had just explored in a newly published American Historical Review article, which I readily shared with them. This led to a month-long series of lengthy email exchanges, phone conversations, Skype chats, and eventually to an invitation to come to Ghana to shoot the Who Do You Think You Are? episode.
After landing in Ghana in early April, I quickly set off for the coastal town of Sekondi where I met the production team, and the episode's subject, Reggie Yates, a remarkable young British DJ, actor, and television presenter. Reggie had come to Ghana to find out more about his West African roots, but he discovered along the way that his great grandfather was a British mining accountant who worked in the Gold Coast for close to a decade. His great grandmother, Dorothy Lloyd, was a mixed-race Fante woman whose father — Reggie's great-great grandfather — was rumored to be a British district commissioner at the turn of the century in the Gold Coast.
The episode explores the nature of the relationship between Dorothy and George, who were married by customary law around 1915 in the mining town of Broomassi, where George worked as the paymaster at the local mine. George and Dorothy set up house in Broomassi and raised their infant son, Harry, there for two years before George left the Gold Coast in 1917 for good. Although their marriage was relatively short lived, it appears that Dorothy's family and the wider community that she lived in regarded it as a respectable union and no social stigma was attached to her or Harry after George's departure from the coast…
Read the entire article here.
Tags:
Carina E. Ray
,
Carina Ray
,
Ghana
,
OUPblog
,
OUPblog: Oxford University Press's Academic Insights for the Thinking World
,
Reggie Yates
,
Who Do You Think You Are?